Google Pixel XL 32GB Black (Unlocked)-SEE DESCRIPTION-(TW746)

| | | |
| --- | --- | --- |
| Condition: | Used | |
| | |
| --- | --- |
| | |
| | | |
| --- | --- | --- |
| | Description | |
Google Pixel XL 32GB Black (Unlocked)-SEE DESCRIPTION-(TW746)
Phone fully works
IMEI is clean
Screen has a couple minor scratches.

This phone has what is called LCD burn. THE PHONE FUNCTIONS PERFECTLY FINE. This happens when the display is left on the same screen for too long of a period of time and the icons get burned into the OLED screen. So basically on white screens (sometimes other screens) you can see the old icons burnt in. See image 3 for an example. The phone works fine! You just get a discount.

The body has a few tiny scratches around the edges.
An aftermarket charger is included with the phone and nothing else is included.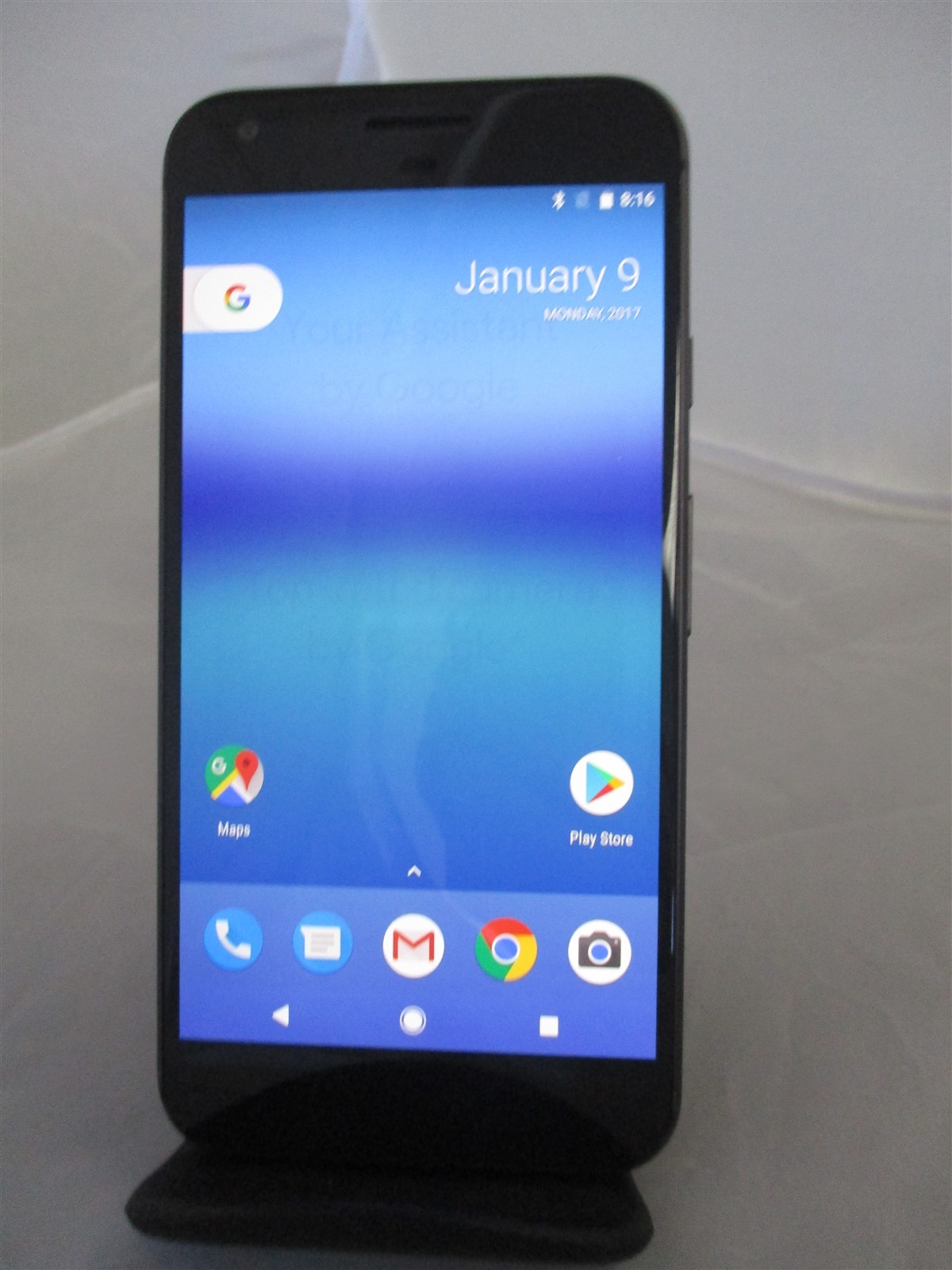 Bluetooth-Working
, Button Home-Working
, Buttons Other-Working
, Camera-Working
, Charge Port-Working
, Ear Piece-Working
, Front Camera-Working
, Loud Speaker-Working
, Microphone-Working
, Power Button-Working
, Powers On-Working
, Touch Screen-Working
, Volume Button-Working
, WiFi-Working



,

,

,

,

,

,
1. You need to verify with your carrier that it is compatible. Although fully unlocked, your carrier may use HSPA for Data and this phone may be 4G LTE, for example. That is just one example of how a phone may not be compatible.
2. The phone might require setting updates such as APN. Your carrier can help you with these if you contact their customer service.
We reserve up to 2 business days for handling time (time until shipment). Often times items will ship much quicker.

We will combine shipping on any combination of products in our auctions. Contact us to make arrangements on Bulk Purchases.

SoonerSoft LLC has a 60 Day return policy on all items.

SoonerSoft Return System can be accessed through the black "Customer Returns" circle to the right..

To take advantage of eBays BEST return policy, you MUST USE our easy return center to return all items. IF AN EBAY BUYER PROTECTION CASE IS OPENED, the SoonerSoft LLC Return system cannot be used and we must follow eBays policy which can be a slower process.

Items may be either returned for a FULL refund with NO RESTOCKING fees OR we can expedite a replacement unit with a prepaid return shipping envelope.

If returning a phone make sure that:

1. It has not been 60 days since you received the item.
2. There is no water damage (unless the original posting stated water damage)
3. There is no major physical damage such as cracking that was not present before.

We are eBay's NUMBER ONE source for Electronics and Electronic Entertainment. We have access to 100's of RaRe items our competitors do not have access to. Whether its Video Games, Video Game Accessories, Cell Phones, MP3 Players, or Collectables, we should be your first stop. Please check out our other auctions!

Feel free to message

here

us though the ebay messaging system. We are readily available Monday - Friday 8:00 to 5:00 pm CST. Please allow 24 hours for all inquiries.

Design by Sally Milo - MiloDesign